Car maintenance is crucial to ensure the longevity of your vehicle. As part of car maintenance, you're going to have the cost of professional hand washing.
For some, they prefer the DIY hand washing option instead. You may decide to wash your car's interior and exterior by yourself. This also has its advantages and disadvantages.
However, professional car handwashing is an important part of the big picture that is car interior detailing. As a result, it's always better to with the handwashing services that professionals can offer you.
In this article, you will learn about the cost of professional hand washing in Vaughan. We will also discuss the differences between professional and DIY car hand washing. Furthermore, we will cap it off with a discourse on the importance of car detailing as well.
What is Professional Car Hand Washing?
Professional car hand washing involves the use of water and soap to clean your car. However, it can go further by including other car washing and detailing services. This involves a thorough wipe down of your car to make it look almost brand new.
The cost of professional hand washing is relative to the type of service you want. Depending on the scope of the service, it will include the use of the following tools:
Soap
Tire shiner
Wax
Sponges
Scratch remover
Importance of Professional Car Hand Washing
Why bother with the cost of professional handwashing if you don't know its importance? Car hand washing is significant in preserving the integrity of your vehicle.
We recommend that you professionally hand wash your car at least once or twice a week. This depends on how frequently you use your car and how dirty it gets. Dirt and grime can pile up in the grooves and pockets of your car. Eventually, these tiny obstructions will cause long term problems for your vehicle's paint.
Are you planning to sell your car or trade it in? If it ever comes down to it, a car with paint that looks great will have more value to potential buyers. As a result, it's important to do whatever you can to keep your car looking fantastic. A large part of this is through regular professional car washing. This helps remove rust, scrapes, dull paint, and other problems that may take away from your car's look.
Related Article: What To Expect During Full Interior Detailing
Cost of Professional Car Hand Washing in Vaughan

By now, you are familiar with the importance of handwashing your car. It's time to learn about the cost of professional hand washing of your car. Money is often a dicey topic to discuss. You do have to spend money to maintain your vehicle.
The upside to it is that hand washing your car will help you save more in the long run. Here in Vaughan, you can find affordable car hand washing services.
However, the model of your car is the first factor that will determine just how affordable it is. The first thing to consider is the type of vehicle you use.
Next, you need to decide on whether you want to detail your car as well. This option is more expensive but it significantly improves your car's quality. Let's start with the type of car first.
A coupe car can cost between $25 to $50 for a professional car hand wash. A sedan can vary from $50 to $125 and an SUV can range between $75 to $100. Vans typically fall between the range of $100 and $135.
It is important to note that these price ranges are for both interior and exterior car hand washing. Exterior washes will take care of the outer body which includes the tires, windows and doors. On the other, the interior washing focuses on the internal parts like the seat, mats, trunk etc.
How to save money on car hand washing
The cost of professional hand washing may seem steep to you. However, you can also go for a DIY option. This involves the purchase of car wash tools to use by yourself at your home. A basic car wash kit can cost up to $20 upfront. But you get to use its products for a long time. There are more sophisticated car wash kits upwards of $60. Such kits come with extra perks like wax and wheel cleaners, rim scrubbers, air fresheners etc.
Saving water and catering to the environment is paramount when washing your car. These steps will ensure you wash your car while being as environmentally friendly as possible.
According to the Vaughan government's official car hand wash guidelines:
It is not a smart idea to wash your vehicle on an asphalt surface, like in a driveway. Soap and grime can go directly to a local storm drain that leads to a lake or creek. This toxic runoff will affect the life of aquatic plants, fish, and other animals greatly.
How then can you wash your vehicle and help keep the water clean?
Use a coin powered or tunnel car wash or using a commercial car wash. Before taking it to the sewage system for disposal, they reuse the washing water several times.
During the car wash at home:
Wash on your lawn or a surface that does not drain onto the street.
Sparingly make use of soap
To save water, use a hose nozzle with a trigger.
When you're done, dump your bucket of soapy water into the sink, not into the street.
Take into consideration the table below. It can help guide your decision on how to save water while washing your car.
Water Consumption (gallons)

Type
Numbers for the ICWA
Mid-Atlantic Carwash Association
WaterWiser
Home wash (with automatic shut-off nozzle)
—
—
30
Home wash (without automatic shutoff nozzle)
—
—
100
Self Serve
14
15
—
In-Bay
45-62
35
65-95
Conveyor
64-82
60
30-50
Interior Car Cleaning
Often while considering the cost of professional hand washing, you may forget to account for the interior. This is an important part of your vehicle that makes you feel homely. There's no point in having a shiny exterior but a filthy interior.
The procedure of top-to-bottom cleaning of your car's interior through advanced equipment is interior car cleaning. To provide your car's interest with a thorough hand washing, there are a variety of tasks to perform. There are among them:
Elimination of all garbage, soil and dust found within the interior
Scrubbing the dashboard down to clear it from bits of dust
Hovering the carpets and seats inside the vehicle and shampooing them
The initial cost of professional hand washing in Vaughan when including the interior may seem high. However, you have to bear in mind the potential of a lower cost of maintenance. Nooks and crannies of your car's interior can clog up and affect the general performance of your car.
Cleaning the insides of your car does more than providing you with a clog-free environment. For several reasons, it is important to keep it clean to extend its lifespan. Cleaning up your car's interior can:
Prevent any unnecessary wear and tear on your vehicle
Increase the quality of air by removing dust and dirt particles
Increase the safety of your driving with interior glass care
Keep the value of your car in good condition
The approximate total cost of skilled interior cleaning varies based on the car. Below are the various sizes and their corresponding prices.
For an average-sized car, $50 to $125
For an SUV, $75 to $100
For a van, $100 to $135
Related Article: What is Car Paint Correction?
Car Detailing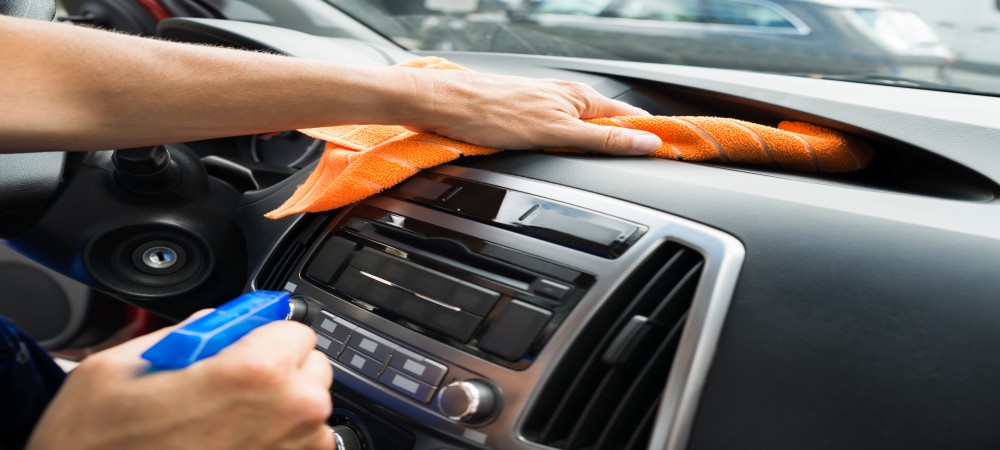 The art and craft of cleaning and repairing a vehicle to new-like standards is professional car detailing. Car detailing facilities are a lot more reliable and labour-intensive than using an auto car wash.
Professional auto detailing is done by hand. It also involves the meticulous treatment of both exterior and interior vehicle parts.
Initially, the cost of car washing and detailing services are more expensive than the regular wash. The end product thoroughly justifies the means. A total car detail leaves your vehicle looking like it just came off the showroom.
Furthermore, car detailing significantly improves the resale value of your vehicle. We recommend that you detail your car at least once or twice a year. Of course, you will alternate it with regular car hand washing . Below are the perks of doing a car detail.
Total vacuuming of your car
Removal of salt stains, especially during winter
Wiping down of door panels
Reconditioning of interior leather seats
Removal of pet hairs
Total purging of the engine unit
Elimination of foul odour
Absolute revitalization of the car trunk
Shining of car windows
Additionally, car detail services utilize steam to do most of the work. This makes it a good environmental option as it saves water usage. Furthermore, the use of steam minimizes the addition of cleansing chemicals. Hence, this prevents the inhalation of toxic fumes.
As with other car wash services, the cost to wash and detail your car differs. Depending on the size of your vehicle, the prices will vary. Below are the respective prices for detailing your automobile.
Coupe: $130
Sedan: $160
SUV: $190
Van: $220
Conclusion
Your car is your second home. Therefore it deserves all the care it can get. Ensure to subject your car to professional car hand washing regularly. You can also choose the DIY option if you have the time and resources.
Or you can just leave it to the professionals. Here at Autoboss Vaughan, we use state of the art car washing kits and offer free post-checkups. Visit us today and let your next drive be a splendid one!