SERVICE
Auto Glass Repair/Replacement
Improve the look and functionality of your vehicle with professional windshield repair. Lamination on a windshield's surface allows it to crack without shattering or falling into the interior of the car during an impact. In many cases, a crack can be repaired without replacement quickly. When the crack is large enough that the whole windshield is compromised, we also offer fast, affordable replacement in under an hour!
Auto Glass Repair or Replacement?
Unlike your windshield, the side and rear windows of your car are often not laminated, though some manufacturers are beginning to employ laminated glass in these windows. The tempered glass of side windows means they will not shatter into sharp shards but without lamination the window will break apart.  Even a single crack will require replacement.
As a general rule, if the crack in a laminated window can be covered by a twenty-dollar note, then it is small enough to be fixed safely. Larger than this, replacement is usually recommended as a large crack that is repair could leave the windshield weak in that spot. Auto Boss will inspect the damage to your windows and windshield to determine the best repair and replacement options for safety and affordability.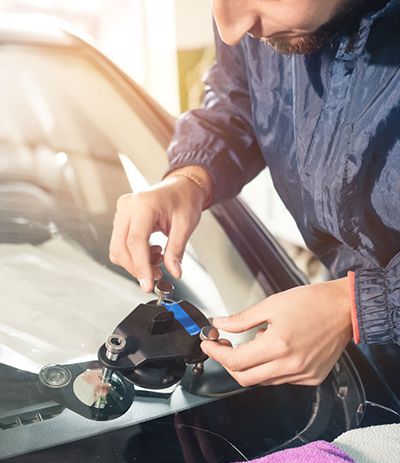 Why Choose Auto Boss Auto Glass and Windshield Repair?
Auto Boss's auto glass repair and replacement services are backed by experience, commitment, and industry-leading materials and techniques, including:
1.
Matching manufacturer safety standards
3.
Quick Replacement of in-stock windshields
7.
Satisfaction guaranteed!
2.
Industry-leading materials that meet safety and durability standards
4.
Large in-stock windshield and window inventory
6.
Fast and professional repair of chipped glass
Professional Windshield Repair
Auto Boss offers fast and convenient service for all your auto glass repair and replacement needs. Our team of expert technicians will assess damage to your vehicle's glass and recommend the best options for safety, speed and affordability. Call to make an appointment, 647-554-BOSS(2677).

If you have any questions or would like a quote for our Windshield Repair/Replacement services, please contact us at: