SERVICE
Full interior detailing
Car Interior Detailing and Interior Car Wash
Too many drivers only wash the exterior of their car every now and then because they may think it's not necessary to do a thorough clean inside their car. But as materials build up inside, it doesn't just create a bad smell, but it actually affects the operation of your vehicle.
Dirty air exhaust spreads allergens around, grit can cause switches to fail and hazy windows can make it harder for the driver to see too. Our experienced technicians can do thorough car interior detailing and interior car wash. Just leave it with us and you'll get it back sparkling clean.
Getting car interior detailing and an interior car wash regularly extends your vehicle's life span. These services remove contamination that may have damaged the car's leather and vinyl. Your car's resale value can also increase because it will look and smell its best. Our experienced technicians will check every area for dust, dirt, scratches and odors.
Our Services
Interior car detailing requires more time than exterior detailing because there are many hard to reach places to clean. Our services include the following work: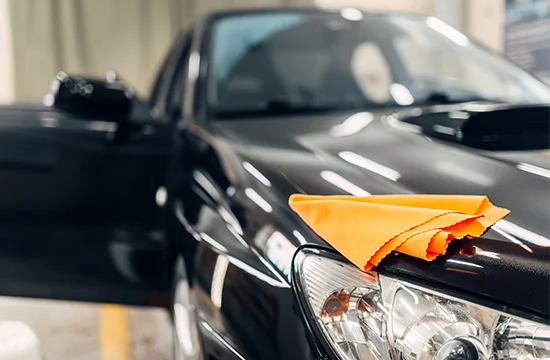 Vacuuming
We first vacuum seats, headliners, rear cargo area, trunk and shelf. When there are hard to reach areas, we use an air compressor.
Brushing and steam cleaning
This is used to clean carpets and mats to remove any stains and blemishes that have accumulated over the years.
Interior car wash
After we shampoo the seats and floors, we condition the leather surfaces from cracking and fading.
Glass cleaning
A glass cleaner is used to clean the glass to ensure it remains sparkling and so the driver's view is not obstructed.
Leather trimming
A leather cleaner, saddle soap and leather soap are used to clean all the leather parts. If the leather is dry, we used a customized conditioner to make cleaning more efficient.
Re-vacuuming and wiping
We vacuum not just once, but twice for your vehicle so all of the dirt is removed. We then wipe the dashboards and windows until its original shine returns.
Perfuming
Finally, we use a deodorant to make the car smell nice inside.
You will have an enhanced driving experience when you get your car back.
If you have any questions or would like a quote for car interior detailing and an interior car wash, please contact us at: