Your car is not just four wheels, suspension, a body, and an engine. It's a significant investment and an extension of your personality. Hence, maintaining it is only natural. 
Whether you own a luxury or vintage vehicle or just bought your first ride, paint damage is the last thing you'd want to deal with. Rock chips, fine scratches, and swirl marks are blemishes that could damage your paint, reducing its value. 
Most car owners are willing to invest significant time and money into paint protection for obvious reasons but have doubts about options like paint protection film.
Paint protection films and ceramic coatings are excellent paint protection products. This article discusses why paint protection film is worth the investment.
What is a Paint Protection Film?
A paint protection film is a lightweight urethane protective layer of film applied on painted surfaces. The invisible urethane film sticks to the vehicle's paint, protecting against the elements and preventing damage from bird droppings, chemical stains, etc.
Interestingly, paint protection film features heat-activating self-healing properties, allowing it to heal scratches and swirl on heat application. 
Your vehicle may look tough and rugged, but its paint job is susceptible to considerable damage as the clear coat isn't designed for high impact resistance, warranting most car owners to invest in PPF. 
Is Paint Protection Film Worth It? 
Yes. PPF is worth every cent. It's a transparent protective film that reduces the risk of paint damage on your vehicle's exterior.
If you recently purchased a car, you'll most likely come across paint protection films or ceramic coatings as options to protect your car's paint. Though the price tag is the primary reason most people question its durability, PPF offers exceptional value for money. 
However, it's essential to note that paint protection film's durability and effectiveness depend partly on maintenance. To make the most of your investment, you should adhere to the product manufacturer's care instructions.
Benefits of Installing Paint Protection Film
It Reduces the Need for Regular Washing
If you choose to wash and wax, you'll spend a lot of time keeping your car clean, and these options don't guarantee protection against paint fading and other damage. 
In contrast, paint protection film repels dust, grime, and dirt your vehicle picks up as you use it. You do not even have to wash the car to remove stuck dirt.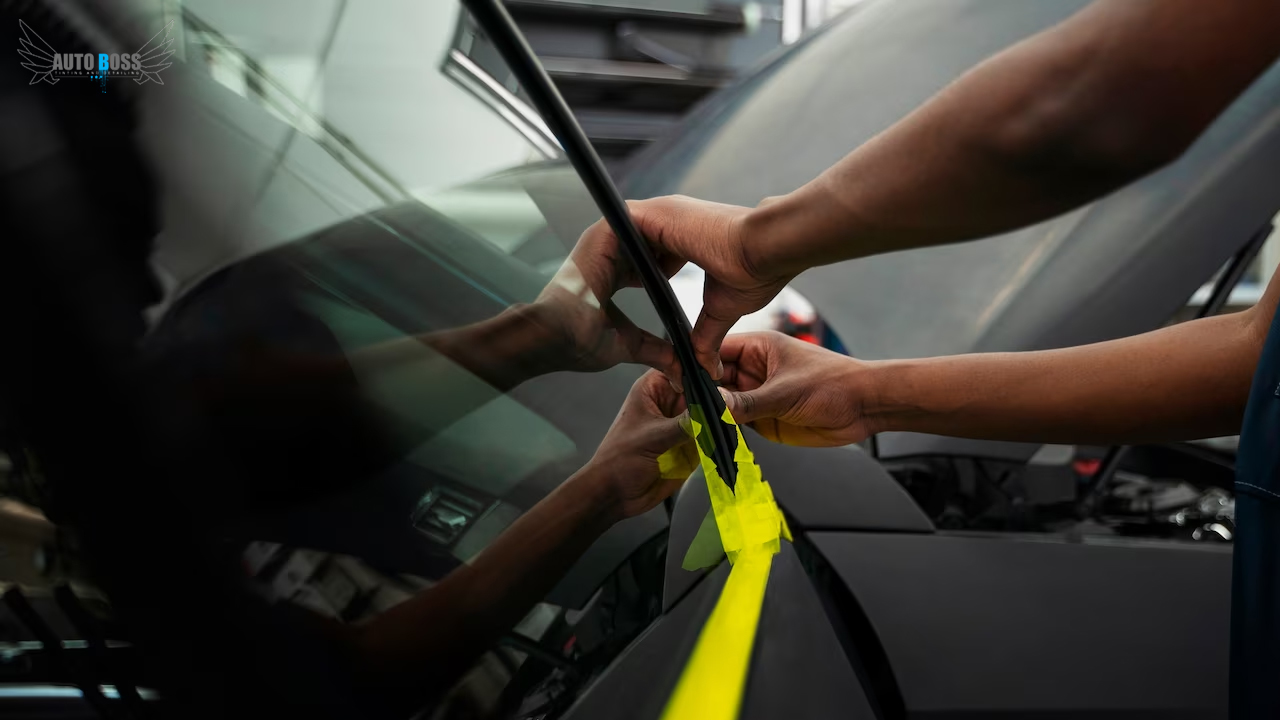 It Maintains Vehicle Resale Value 
Minding your vehicle's external condition is essential, especially if you plan to sell it later. Aside from mileage and excellent mechanical conditions, your vehicle's paint job and appearance impact its resale value. 
With paint protection film, maintaining your car's external condition is a piece of cake. Since most buyers seek vehicles in immaculate condition, an excellent paint job would make a good first impression and fetch you more money for the car.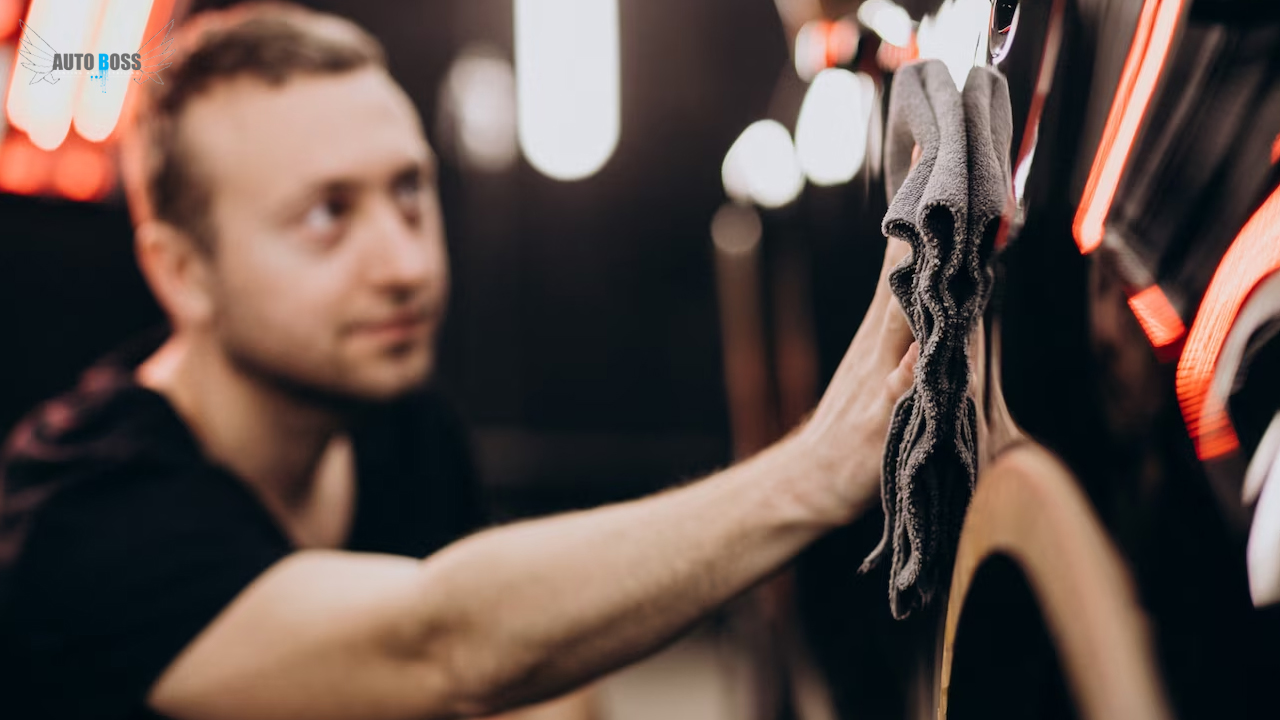 Protection Against Paint Fading
Aside from snow and rain, sunlight exposure is another factor that primarily causes paint fading in vehicles, dulling your paint job. 
The car may receive uneven sunlight; you may likely notice different color shades on your car, warranting a new paint job. However, PPF has unique chemical properties allowing it to block the effect of UV rays on your car's paint.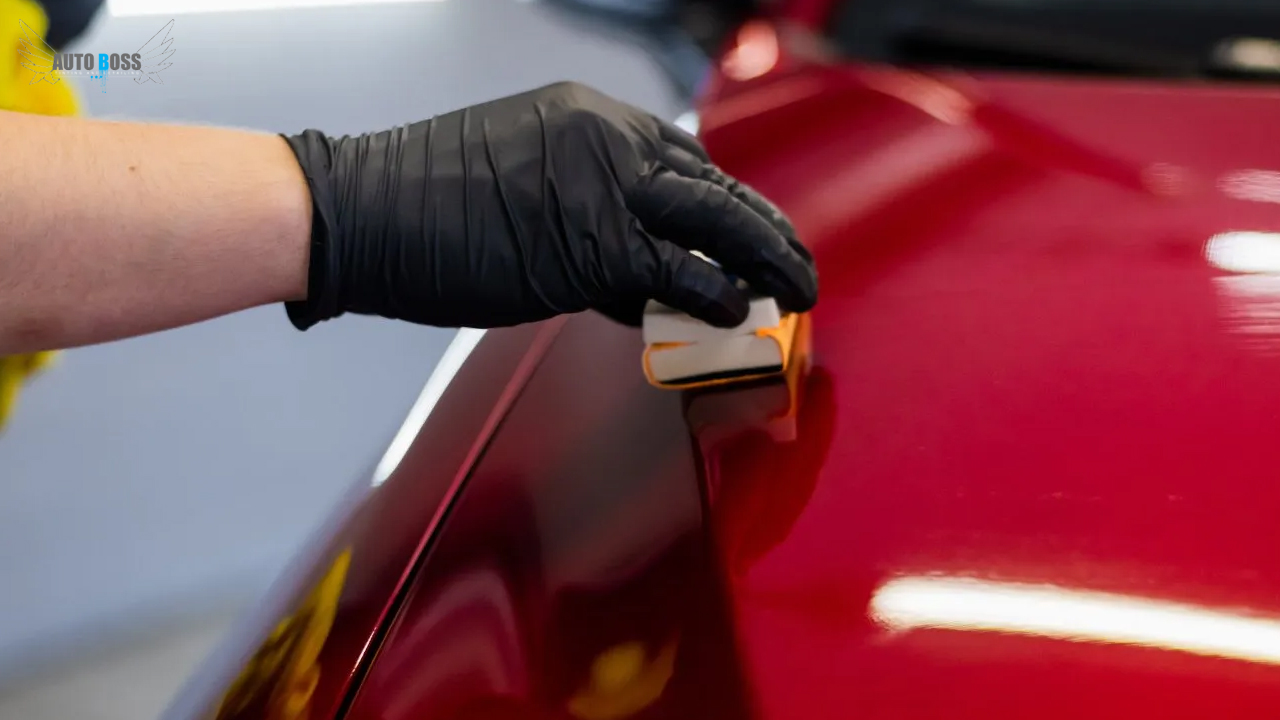 Repainting your car or constant paint correction can eat into your savings, in addition to the logistics of not having your vehicle for some time. However, paint protection film installation is an excellent paint protection and maintenance option. Furthermore, after installing it, you're unlikely to repaint your vehicle.
Despite being a significant upfront investment, it's cheaper considering the cost of repainting, regular waxing, or periodic paint correction.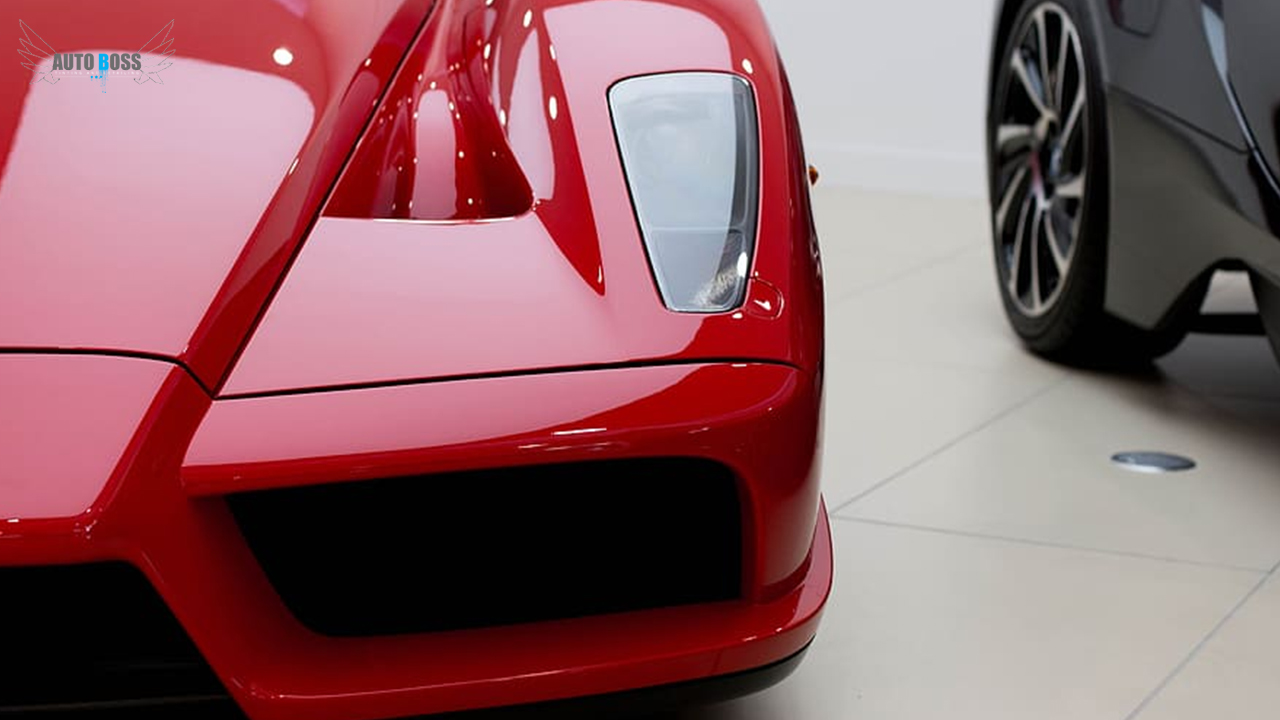 Superior Protection Against Corrosion and Chemicals
A typical paint protection film comprises three layers, each with a different function, improving the product's strength against corrosive damage and chemical reactions. 
The protective layer features innovative technology that prevents acidic corrosion from bug splatters, bird droppings, and other contaminants.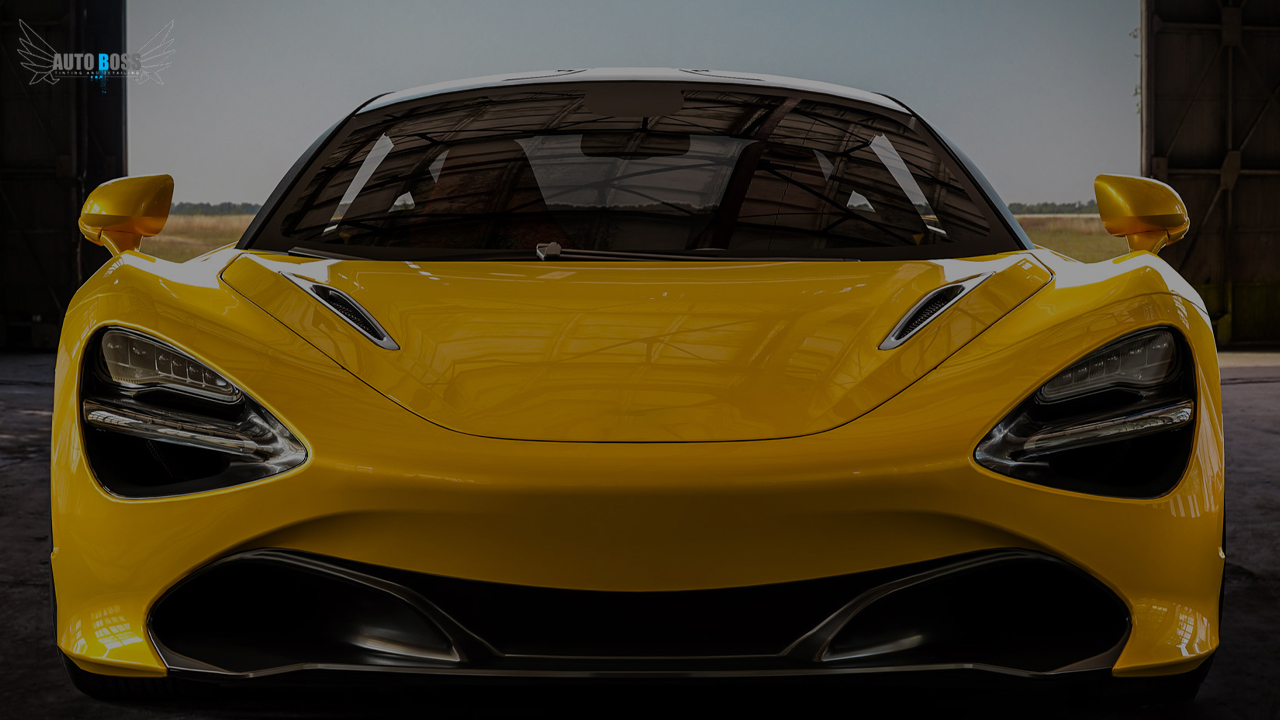 Paint Protection Film vs. Ceramic Coating
Paint protection film, vinyl wrap, and ceramic coatings are three of the most popular options for exterior car care. All will protect the paint, but no option will be bulletproof to keep your car's finish pristine, so it's important to choose the right option. Learn more about paint protection film and ceramic coating here to help you decide.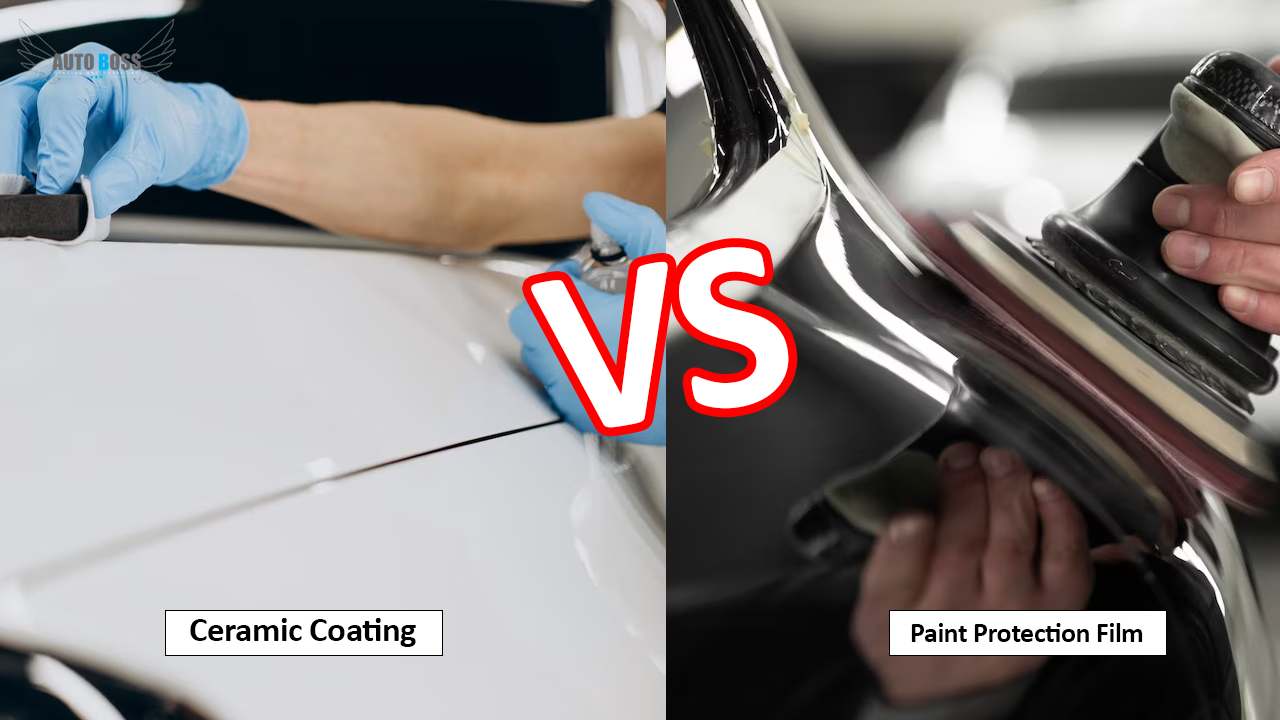 Paint protection films offer superior protection against potential hazards to vehicle surfaces, such as scratches, tree sap, or rock chips. In addition, it's thicker than a ceramic coat and isn't permanent, so you can easily remove it if needed.
PPF installations should be done by a professional, even if you see DIY kits. While it is removable, you can't reapply the same film again once it's been taken off. PPF also isn't as hydrophobic as a ceramic coat.
Rather than applying a vinyl wrap to the car, this type of clear coat protection bonds with the paint. This means there's no need to reapply like you would with a high-quality wax or powder coating. The nano-coating makes your car look amazingly glossy and repels water like nothing else on the market. A quick rinse with a hose will give you a spotless, shiny finish.
The downside to this choice is the potential for scratches, flying debris, and other imperfections to damage cars. A ceramic coating is also quite time-consuming and challenging to apply, and it can be more expensive than getting PPF installed.
Paint Protection Film Self-Healing Feature
For clarity, not all PPF products have this feature. Only films with Elastomeric polymers can self-heal on heat application.
This feature may be one of the reasons you wish to install PPF on your car; clearly state your needs and expectations to your PPF installer for a satisfying service.
Tips For Maintaining Paint Protection Film
Don't wash your car after paint protection film installation

Don't touch the film after installing PPF

Clean your car yourself rather than use a commercial car wash

Use high-quality cleaning products

Avoid washing your car in direct sunlight

Keep rags, mitts, and buckets separate for wheels and body
Install Paint Protection Film in Vaughan
PPF is an outstanding and comprehensive solution to maintaining your vehicle's exterior. If you reside in Vaughan, Ontario, and are ready to have your car protected, Auto Boss Vaughan is your best option for high-class service and exceptional delivery. 
We prioritize auto protection and offer a warranty on all our services. Our auto detailing services in Vaughan, ON, include ceramic coating application, window tinting, paint correction, and general automotive detailing. Contact us at +1 647-554-2677 to schedule an auto detailing appointment.
Conclusion
There is no reason to wait with all of these superior paint protection film installation advantages. Contact our PPF experts at Auto Boss Vaughan in Vaughan, ON, to discuss the best way to protect your vehicle from the potential damage of driving on the roads in Vaughan.
FAQs
What is a Trusted Paint Film Protection Brand?
At BEMAC, we use XPEL Paint Protection Film in glossy ULTIMATE PLUS™ or satin finish STEALTH™ options. One of the most advanced paint protection films on the market, and available in three different thicknesses to suit your needs, it's a high-performance acrylic adhesive that's formulated to resist delamination.
Is 3M protection worth it?
Yes, 3M films are designed to withstand harsh elements, such as gravel, salt and bugs, as well as sun exposure. The premium Scotchgard Pro offering has self-healing properties similar to the technology that Xpel originally developed.
Is Xpel PPF worth it?
Highly durable, the clearcoat layer on Xpel PPFs is resistant to impact and contaminants and is hydrophobic. In addition, specialized "edge seal technology" ensures Xpel films stay in place, so there is no risk of lifting. A 10-year warranty is a testament to the confidence Xpel has in its product line.
How much does Paint Protection Film cost?
On average, PPF packages start at $299. However, it depends on the quantity and quality of PPF required.