For automobile owners in Toronto, having auto Paint Protection Film placed on their vehicles is a wise investment. Left unprotected, the paint job on any automobile will quickly become damaged. The ravages of the weather in Toronto, with its rain, wind, sleet, snow, and ice, can dull and mar the paint job on an automobile.
Add sand, pebbles and other detritus from the roadway bouncing up and hitting the body of the vehicle and a gorgeous paint job can quickly become pockmarked and ugly. That's why automobile owners in Toronto are comfortable paying $2,000 or more to have Paint Protection Film installed.
What Is Paint Protection Film
Paint Protection Film is a clear, adhesive-backed film that can be applied to an automobile to protect its paint job. It keeps rock chips, swirls, and scratches from damaging the paint on the vehicle. PPF is often self-healing. If it is scratched or otherwise damaged, the heat from the sun or from a heat gun can make the scratch disappear. To save money, some vehicle owners have the Paint Protection Film applied to only the front end of their automobiles because that is the area that is most likely to sustain scratches. Others pay the additional cost to protect the entire automobile.
A Relatively Expensive Process
Purchasing the clear, adhesive-backed Paint Protection Film can cost almost $1,000. The vehicle's owner then has to pay a $1,000 or more to have it installed depending on how much of the automobile is to be covered with it. It's not unusual for a vehicle owner in Toronto to have to pay as much as $6,000 to have their entire vehicle covered with PPF. The process routinely takes over 8 hours to complete, but when it is done, the Paint Protection Film protects the vehicle's paint job for many years. Many auto shops guaranteed the PPF they install will be perfectly durable and flawless for a minimum of 10 years without fading, yellowing, cracking or hazing.
Tailored By Hand
It's possible for an automobile owner to save money on having their vehicle covered with the Paint Protection Film by purchasing a pre-cut installation kit. However, many people to pay the extra cost to have the Paint Protection Film custom-designed to fit the shape of their vehicle perfectly. The high-end film makes installation accurate and precise. When the PPF is installed by hand, the film can be rolled or tucked under every edge and create a fit that's practically seamless and has no visible edges. The average person can't tell the vehicle is wrapped in film.
Immense Skill Is Required
Part of the reason for the high cost of installing Paint Protection Film is the immense skill and careful preparation is required to handle the process. Excellent preparation is absolutely essential if the PPF installation is to be aesthetically pleasing and long-lasting. All the trim, edges, panels, corners and crevices must be thoroughly cleaned to remove all the dirt, grime and dust that has built upon the vehicle. Even new vehicles have to be cleaned thoroughly before the PPF is installed. Cut-rate installers charge less but usually skip the cleaning.
A Wise Investment
Getting a PPF installed is a wise investment. It allows people to enjoy their brand new vehicle without the paint job quickly becoming chipped, damaged and ugly. Scratches and dings can also hurt a vehicle's resale value significantly. The cost of getting a PPF installed can be easily recouped when the owner sells the vehicle. Even if the vehicle isn't resold, spending $2,000 to install the PPF can prevent the vehicle from having to be repainted for a decade or more. Plus, most people would prefer to protect the original paint job than pay more than $2,000 to repaint their vehicle.
Related article: How much does auto detailing cost in Toronto?
A 'No-Brainer' For Expensive Vehicles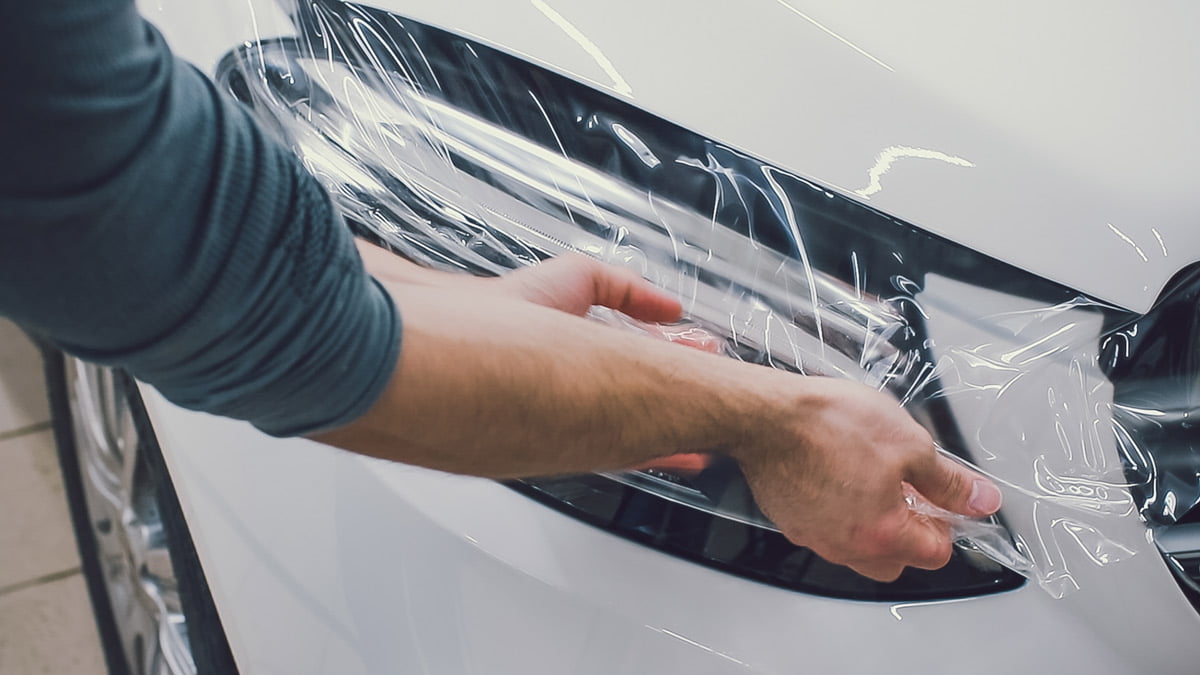 When someone pays $45,000 or more for an automobile, paying $2,000 to $6,000 more to ensure the paint job will continue to look amazing for years is a 'no-brainer'. Having the specially designed, thick, self-repairing, scratch and crack resistant, high gloss urethane film protecting the thin, sensitive paint from damage is worth every penny. No one wants the paint job of their $90,000 car to have salt and road damage, unsightly rock chips, scratches, and insect damage, when for a few thousand dollars more a Paint Protection Film can make the finish look incredible.
Makes Good Vehicles Look Great
The optically clear PPF top coat a glossy finish that improves the look of any paint job and can also mask many defects. Without the PPF for which the owner paid between $2,000 and $6,000, evidence of scratches and other damage will be evident and the value of the best vehicles plummet. To ensure your car's paint job will stand up to a decade of Toronto winters and still look great, the price of the PPF shouldn't matter. It's a small price to pay to protect a major investment.
A Range Of Prices
In Toronto, the price of having Paint Protection Film can vary widely depending on the quality of the product you choose and the skill the installer. People can pay several hundred dollars for a pre-cut PPF installation kit or a thousand dollars or more for a high-quality custom made PPF specially designed for their automobiles. Because of this, the cost of auto Paint Protection Film in Toronto can range from under $2,000 to more than $6,000.